If you have seen this viral video, you will know that
Julie and Scott Brusaw
have grabbed the imagination of several million people, with an invention that could benefit the lives of hundreds of times that number.
If you haven't seen it, there's no time like the present...
If you like it, and are maybe wondering if it can really happen, you might also like to watch Scott Brusaw addressing Google's
"Solve For X"
think tank (worth looking at in its own right) in May 2013 - in some ways even more interesting than the viral video:
Things have moved on considerably since then, with a very successful
Indie crowd-sourcing exercise
funding the next stage. It closed on June 20, 2014, having raised $2.2m, more than twice its target.
The latest news about the Solar Roadways development will be found
here
, with recent posts on the Internet (in the year leading up to when you actually read this)
here
.
You may see among those mostly positive posts and articles that the (un)professional nay-sayers and trolls have also crawled out of the woodwork, as apparently they do after every successful Indie campaign.
Rather than rant about this particularly idiotic and destructive sub-species of the human race (especially prevalent in the USA, for some reason, home of great enterprise, innovation and engineering), I can simply point you at this: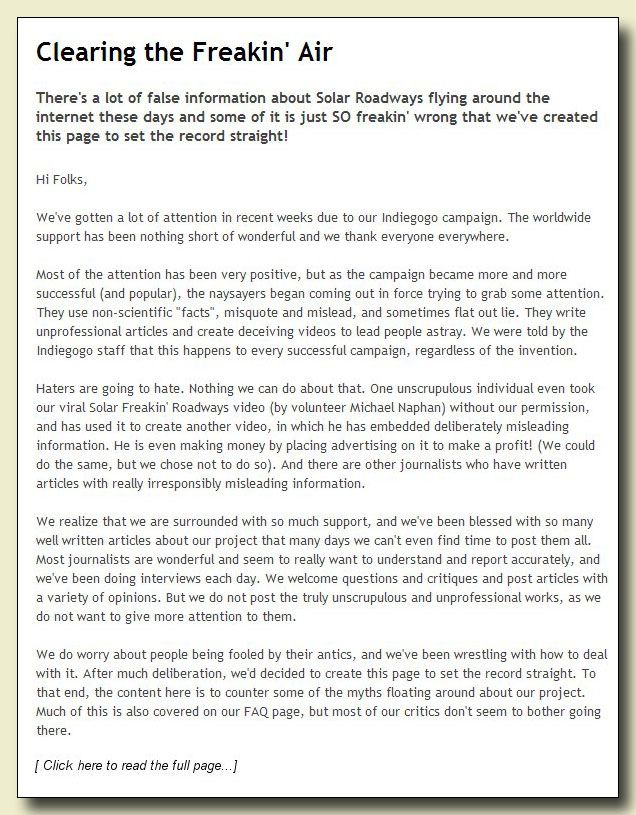 Click the above extract to read some thorough debunking, as well as some really interesting info.
My friend
Jerzee55sst (Jerry)
, after pointing out the entrenched interests in the USA that will doubtless (continue to) fight this tooth and nail, sent me this: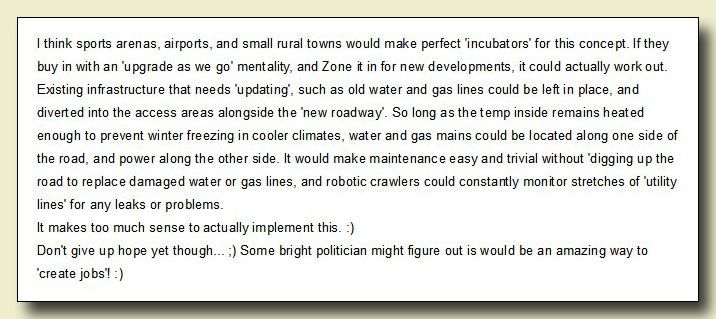 As someone with a physics and engineering background, I see no reason why this invention cannot succeed, given only the will to do it. As a UK citizen, I was sufficiently impressed to throw a few dollars into the US economy, since a successful outcome will benefit everyone, wherever they live.
If you'd like to see this life-changing initiative succeed, you can still donate to it
here
- but the best thing anyone can do to help (IMO) is to take time to learn good information about it, and to pass that information on.
Let's ignore the clowns and just get the show on the road.
Watch
this space
!
If you like this...

[Permalink to this post]
[Solar Roadways on Facebook]
[Google's "Solve for X" Home Page]